Manuela

Burkert

,

M.Sc.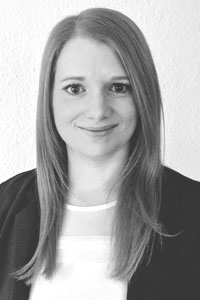 Organization:

Department Geographie und Geowissenschaften

Working group:

Department of Geography

Phone number:

+49 9131 85-23574

Email:

manuela.burkert@fau.de
Address:


Wetterkreuz 15

91058 Erlangen

Room 2.267

Office hours:
by appointment
Research fellow in the Working Group 'Regional Development' of Prof. Dr. Tobias Chilla
News from research and teaching can be found on our blog:
www.regionalentwicklung.bayern
Since March 2018: Research fellow on the Institute of Geography
2014-2017: Master studies in Human Geography: Urban and Regional Research (University of Bayreuth); Graduation: Master of Science; Topic of the master thesis: "Network strategies of large companies in regional networks – a case study of the Medical Valley EMN"
2009-2014: Teacher training for secondary school in Geography / Economics / Media education (Friedrich-Alexander-University Erlangen-Nürnberg); Graduation: Bachelor of Education, First state examination
Practical experience
PB CONSULT Planungs- und Betriebsberatungs GmbH
Wirtschaftsband A9 Fränkische Schweiz e.V.
Stadt Bayreuth – Amt für Wirtschaftsförderung
No lectures at the moment.
Research focus
on the sustainable development of regions, in particular the study of regional development potential, regional networks and regional value added.
Projects
Regionalproduktspezifisches Landmanagement in Stadt-Land-Partnerschaften am Beispiel der Europäischen Metropolregion Nürnberg (ReProLa), ongoing.
Monetarisierung von Standortfaktoren zur Bewertung von Logistikstandorten für Fraunhofer SCS, 2018.
Sekundärstatistische Analysen zu den ökonomischen Effekten regionaler Wertschöpfung, 2018.
Evaluierung der Umsetzung der Demografiestrategie ERH 2030 für den Landkreis Erlangen-Höchstadt, 2018.